Rubber ball is mainly used seal valve,automobile brake-system and so on.
---
Rubber Ball
| | |
| --- | --- |
| | Precision ground rubber balls are rubber spheres of high dimensional accuracy.They guarantee sealing without leaks,are resistant to dirt and produce little noise.Ground Balls are used primarily as sealing elements in non-return check valves to seal against hydraulic fluid,water or air. |
| | |
| --- | --- |
| | Valve ground balls are precision rubber spheres specifically designed as sealing elements in non-return check valves,manufactured from Viton rubber for guaranteed leak free seals and resistance to high temperature and harsh chemical environments. |
17
1
8 Total 2 Records | 1/1Page
Contact Us
Add:Add:19th Caosean Road, Xihuatou, Cixi City, Zhejiang 315302, China.
Zip Code:

315300


Tel:

86-574-66384110


Fax:

86-574-63821863
Email
:
sales@panye.com
Factories Show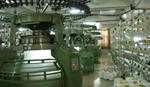 To expand the market share of both of our two sides, according with our present condition and direction of development in future, we now seek more partners of famous brand owners in jeans industry. We want to cooperate with more partners who own famous......
Our Link Reciprocal link page
Upload a link to us and we will link back to you ( Industrial or Educational Related Site only please)
» Click here