O-rings are the most commonly used seals in fluid-power systems. However, elastomeric O-rings are unlike most of the materials that O-rings must deform to function properly. sizing o-rings to the correct size, and the housing that accommodates them with the right interference fit, or groove depth will determine the pressure capability of the o-ring. The use of back-up rings will also extend the extrusion resistance strength of the o-ring.
O-rings are installed in cavities known as glands and then compressed. The resulting zero clearance within the gland provides the seal that blocks the flow of liquids and gases. This simple arrangement serves many fluid-power systems very well, but success still requires careful design, material selection and installation procedures.
O-Rings are made using a wide variety of materials including Viton, FKM, FFKM, Aflas, EPDM, Silicon, Nitirle, Buna-N ,FVMQ and other materials. They are Designed to stop leakage when fluids are transferred, o-rings may be in place along rotating shafts, sleeves, placed in flange grooves, valve bonnets, or any threaded or bolted connection. O-rings are an important accessory in every industrial and residential purpose.
---
O-Rings
| | |
| --- | --- |
| | Food Grade Silicone O-Rings has a natural resistance to bacteria build-up,a large range of working temperatures,excellent flexibility,non-toxic and tasteless,meet FDA 21 CFR 177.2600 requirements,produce and packaged in a Clean Room. |
| | |
| --- | --- |
| | VITON AED O-Rings have been specifically formulated to resist Explosive Decompression (also known as Rapid Gas Decompression or RGD) and exhibit exceptional resistance to high temperatures,high pressure,chemical. |
| | |
| --- | --- |
| | NSF61 certified EPDM O-Rings has a natural resistance to water,steam,alcohols,chlorine and chloramin,non-toxic and tasteless,meet NSF Standard 61 requirement,produce and packaged in a Clean Room. |
| | |
| --- | --- |
| | HNBR O-rings provide superior resistance to heat,oil,wear in high temperature,and has good flexibility at low temperature,frequently used in automotive air conditioning systems employing R-134a refrigerants. |
| | |
| --- | --- |
| | EN549 certified NBR O-Rings has a natural resistance to gas,oils,fuels and lubricants,meet EN549 requirement. |
| | |
| --- | --- |
| | Neoprene O-Rings performs well when it comes into contact with oils,fats and petroleum products as well as many other chemicals and It offers good resistance to the sun,ozone,fire and aging. |
| | |
| --- | --- |
| | FFKM O-Rings last longer and seal more effectively than other elastomers in demanding processing environments. |
| | |
| --- | --- |
| | AS568 o-ring standard sizes are the most commonly used o-ring sizes in the world. |
| | |
| --- | --- |
| | Japanese Industrial Standard O-Rings are another popular classification system used around the globe,these o-rings are also categorized using the metric system. |
Contact Us
Add:Add:19th Caosean Road, Xihuatou, Cixi City, Zhejiang 315302, China.
Zip Code:

315300


Tel:

86-574-66384110


Fax:

86-574-63821863
Email
:
sales@panye.com
Factories Show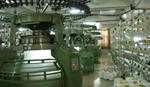 To expand the market share of both of our two sides, according with our present condition and direction of development in future, we now seek more partners of famous brand owners in jeans industry. We want to cooperate with more partners who own famous......
Our Link Reciprocal link page
Upload a link to us and we will link back to you ( Industrial or Educational Related Site only please)
» Click here